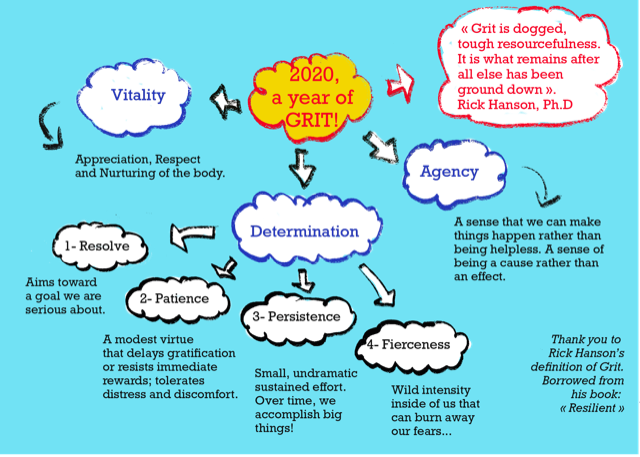 Dear clients and friends,
At the Trust Factory, we love the power of words and communication.
As we look back on the last two decades, and are looking ahead to the next one, many words were influential. Commitment, resilience, abundance, rigor, gratitude, connection, focus and intention… However, one word was overlooked. It is the word Grit.
Grit is a blend of agency, determination and vitality. "Grit is dogged tough resourcefulness. It is what remains after all else has been ground down," as Rick Hanson, PH. D says in his book Resilient.
In an extraordinary fast-changing world, full of challenges and opportunities, we might all need a good dose of conscious grit to continue pushing our learning agenda at work, fostering trust with others, and focusing on our priorities of heart and meaning.
So, may grit be with you in 2020!
We hope you enjoy our New Year's card-brainstorming-reminder of what grit is all about! Thank you to Rick Hanson for stating deep human possibilities with simple and inspiring words.
And of course, we send gratitude to you, our loyal clients and friends, for your trust in us.
Happy New Year!
Carole and Jean-Pierre